"My desire is to create a safe space for families" — Brightline coach spotlight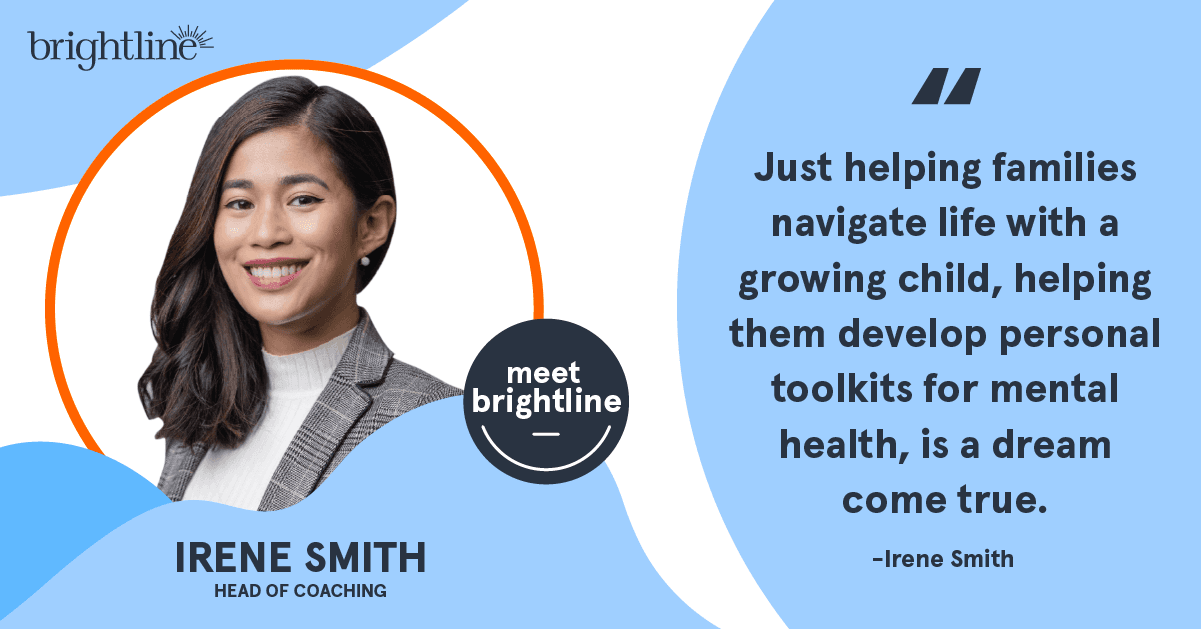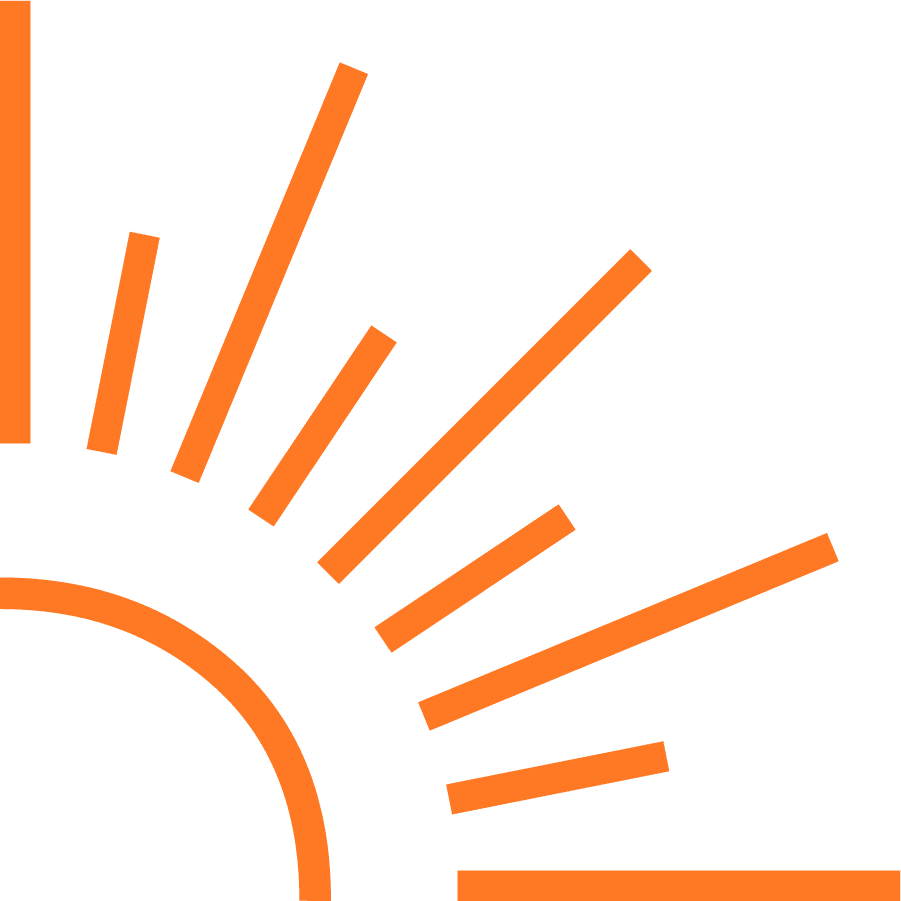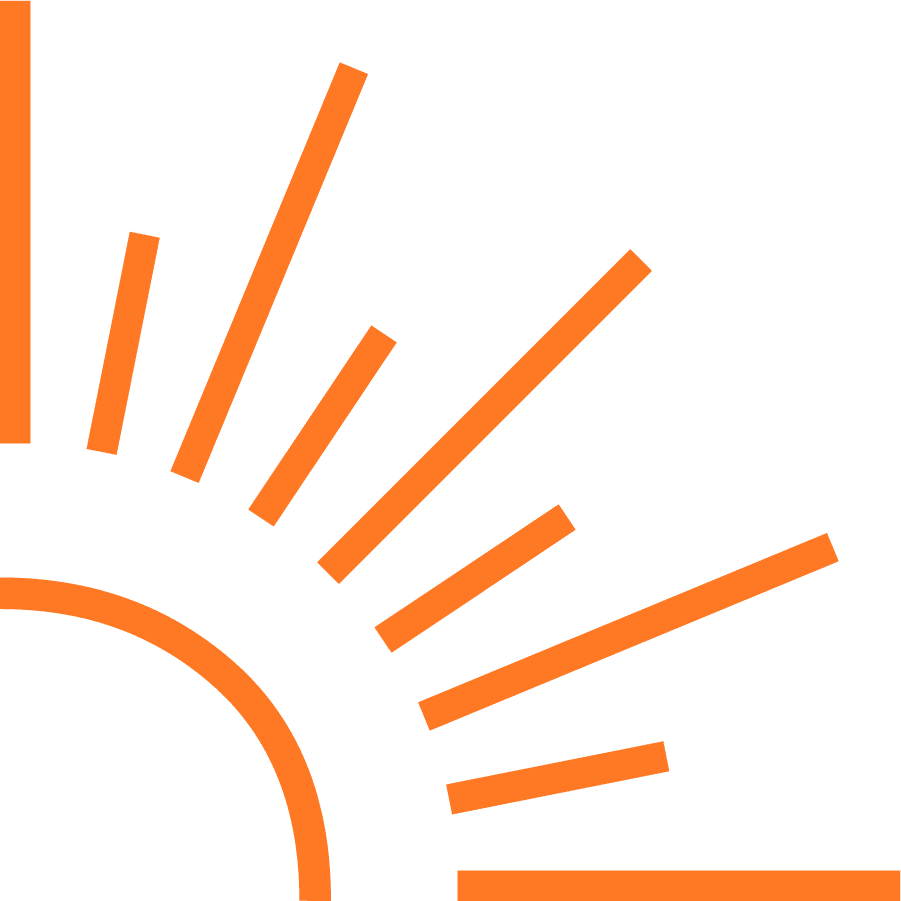 Children from BIPOC communities suffering from behavioral health challenges are much less likely to receive care, study after study has shown. Irene Biscante Smith, head of behavioral coaching at Brightline, wants to change that.
Having immigrated to the U.S. as a teenager, Irene has personally experienced the systematic difficulties members of BIPOC communities face when seeking mental health support. Today, Irene specializes in behavioral coaching for children and caregivers, providing brief, highly focused sessions that address various challenges in life, like tantrums, work-life stress, and tough transitions. She brings her passion for culturally competent care, as well as her unique background as a coach, to children, parents, and caregivers.
In this interview, Irene shares what spurred her to become a coach — and what inspires her to do her work each day.
What sparked your interest in children's behavioral health?
It started when I was just a teenager. I immigrated to the United States when I was 17, and once I arrived, I lived with a new stepparent. I got a job working in a doctor's office six months after I arrived. Acclimating to a new culture was a difficult transition, and I felt like I did not have any resources to deal with the culture shock.
Growing up in the Philippines strongly influenced my interest in mental health. As a child, I did not often have the opportunity to express my emotions, because Asian cultures traditionally don't recognize mental health concerns. So, I developed this desire not only to teach myself and my own future children how to express themselves, but also to help other families create a safe space to have such conversations.
Tell us a bit about your journey to becoming a coach.
At first, I worked with primarily adult populations. Through working with adults, I saw just how influential childhood is on human behavior and decision-making.
While I was coaching adults, they frequently told me, "I can't reach this goal because I was told when I was a child that I can't do these things." It always went back to childhood in my conversations with them. When I started working with nonprofits, specifically at the YMCA, I was inspired because I worked closely with children. There was also a parent training component that I enjoyed.
My vision for widely accessible mental health resources for kids and caregivers is rooted in these past experiences.
Why do you believe a family-oriented approach is so important?
I believe the whole family impacts dynamics — it's all interrelated, right? So, we need to have support for everyone, from digital resources to in-depth coaching sessions. In practical terms, that means at Brightline, our coaches are goal-oriented and try to help parents, caregivers, and children recognize the ever-changing dynamics of parenting and growing up.
For example, Brightline coaches help families address difficult phases of growth, like when a child is going through puberty or having issues with self-esteem. That's when coaches come in and say, "Given all the dynamics in your family, let's see how we can apply healthy communication and mental tools. We can practice and tweak it right here."
The 30-minute online sessions I hold with families help them gain confidence and learn about skills they can actually use. We focus on a holistic view of the family's dynamics. These sessions could include taking a look at sleep, nutrition, work-life balance, anxiety, school, and anything else that impacts the family.
The family-oriented, comprehensive support we provide at Brightline is pretty unique. Brightline really shines during early intervention. Our collaborative care model is meant to help at all stages of family life, including teen angst, divorce, dealing with the effects of long-term pandemic isolation, and helping people navigate whatever other minefields life presents, at any stage. Having a coach helps make problem solving much easier and less scary.
Culturally and socially competent care are often-discussed topics in behavioral health today. Could you explain what these terms mean, with regard to the work you do as a coach?
One of our goals at Brightline is to provide highly trained coaches to manage and address both internal family dynamics and issues that stem from culture and society. Families are experiencing anxiety or worry or depression that is driven by stressors like discrimination of the Asian American Pacific Islander (AAPI) community and the Black Lives Matter protests.
To reach this goal, we offer several resources, including specialists like Dr. Neha Chaudhary, a child psychiatrist, whose work focuses on how to help parents talk with their kids about difficult topics, like the news.
Our goal is to provide non-judgmental spaces and make individuals feel supported. Families wonder, where can I find the support to set my child up for success? That's what we're here for — for education, implementing newfound skills, and support.
I know, as a working parent and as head of coaching, that turbulence can happen at any time — whether your plate as a caregiver is full or not. I hope that the online coaching sessions alleviate some of the pressure that working parents and caregivers, in particular, may feel. Oftentimes these 30 minutes that we have together is the only 30 minutes they have in their day, because things are so busy and fast paced. And that's where the value comes in of having a coach.
Just helping families navigate life with a growing child, helping them develop personal toolkits for mental health, is a dream come true.
Irene Smith is the head of coaching at Brightline. A National Board Certified Health & Wellness Coach (NBC-HWC) and American Council on Exercise Certified Health Coach and Behavior Change Specialist, Irene received her bachelor's degree in public health from Brigham Young University and is currently pursuing a master's degree in family and human development at Arizona State University. She is an experienced health coach, people leader, and program developer with experience in retail, healthcare, non-profit, local government, and healthtech.