Meet the newest leaders of Brightline's leadership team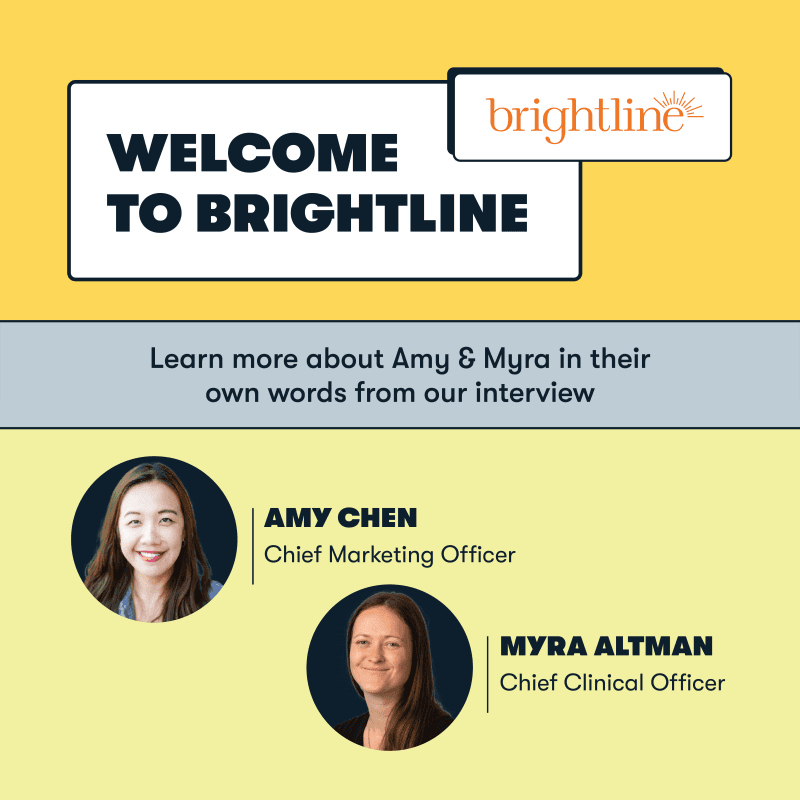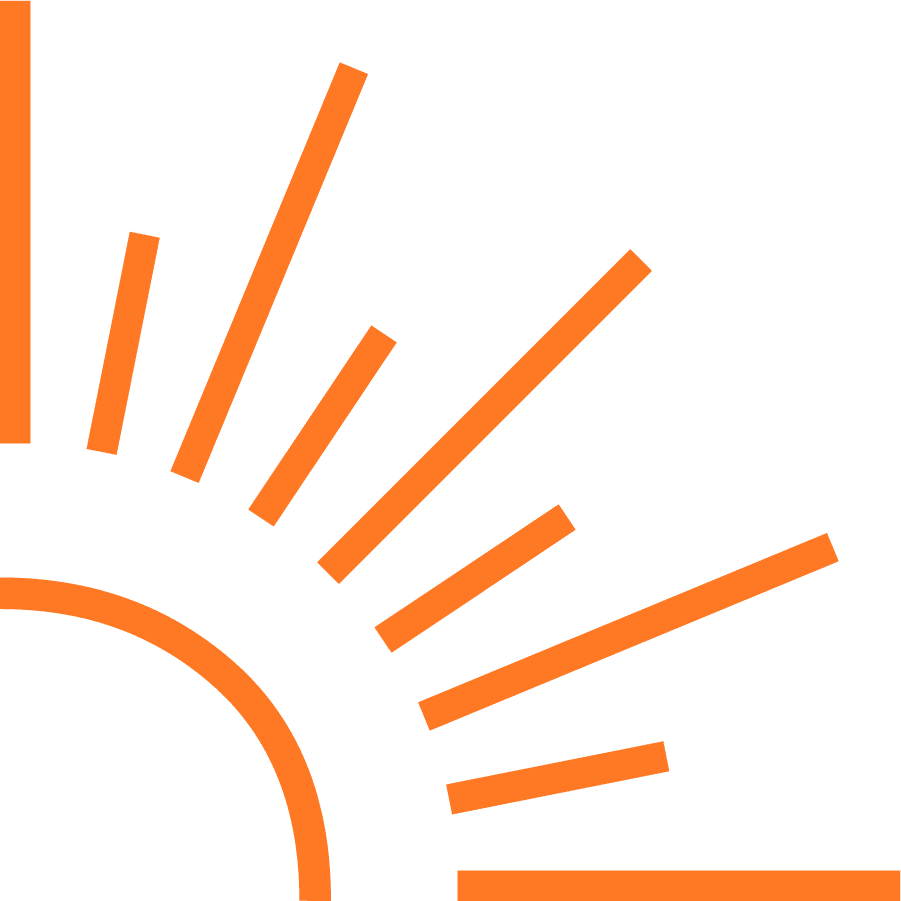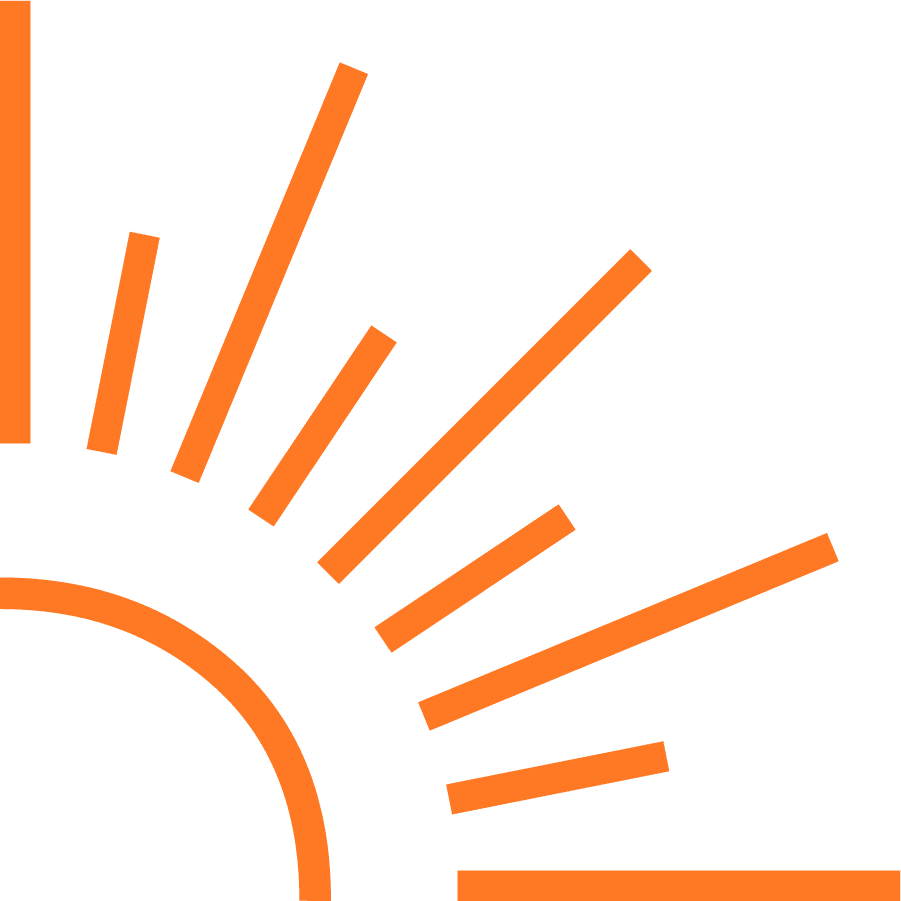 As Brightline continues to grow, so does our team! Today we're excited to announce two incredible new leaders have joined our executive team. Welcome to Dr. Myra Altman, who joins as Chief Clinical Officer, and Amy Chen, who joins as Chief Marketing Officer. With nearly three decades of industry experience between them, the pair come to Brightline as we continue to revolutionize pediatric behavioral health care and eliminate the biggest barriers to mental health support for kids, teens, and families. 
We sat down with both Myra and Amy to learn more about their passion for family mental health and why they joined Brightline.
What sparked your interest in family mental health? Why did you join Brightline? 
Myra: Massive barriers exist when it comes to equitable access to quality family mental health care. Brightline is changing this and transforming the lives of kids and families. This is a critical problem that we have to find a way to solve – and as I met the team at Brightline I was certain that this is the team to do it! As a new mom myself, Brightline's mission is also deeply personal. I hope to use my expertise to help more families access the mental health support they need to help kids in their early developmental years so they can be set up for success for the span of their entire lives.
Amy: I joined Brightline because of its mission, vision, and shared passion to help kids, teens, and their families get access to the mental health support they desperately need. I have experienced what it feels like as a parent when your child is struggling with anxiety or other challenges at a young age. It is heartbreaking to see your child struggle and not be able to effectively help or support them because you are stuck on a waitlist or can't access the care you need in your area. That's why Brightline is so important.
Tell us a bit about your journey to Brightline. What expertise are you most excited to bring to Brightline? 
Myra: After stints in both clinical work and academia – I found my passion for value-based care and care innovation during my postdoctoral fellowship at Stanford University. I realized I want to create new ways of delivering care that overcome persistent challenges seen across mental health access, quality, and equity. After building models to do exactly this at Modern Health, I am thrilled to bring my expertise to Brightline to further strengthen its commitment to safe innovation, clinical quality, provider satisfaction, and clinical research – while developing the overall care model and service offerings.
Amy: My career began in finance and accounting, but I decided to pursue an MBA and switch to marketing when I realized it was a better fit for my personality. From there, I landed at Warner Bros. before I changed gears to the healthcare space and led marketing for Crossover Health and CareMore Health. I'm excited to pair my consumer brand experience and knowledge of the healthcare ecosystem together at Brightline to build it into the next iconic healthcare brand. As part of that, I'm excited about broadening the literacy around youth mental health to reach more families in need and help them understand the support that is available for them. 
What challenges ahead do you see for family mental health?
Myra: We know there are simply not enough providers to meet the level of need for families. Providers must get creative in how care is delivered while making sure innovation is safe to ensure care quality remains priority number one. There are also so many stressors today that kids, teens, and families are managing – from the pandemic to racial injustice, gun violence, climate change, and anti-LGBTQ+ discrimination as just a few examples. It's up to companies like Brightline to step up and provide critical support to both families and providers during a challenging time. 
What's been the biggest surprise to you since joining Brightline? 
Amy: It's surprising that not more employers and health plans are shouting from the rooftops about Brightline's services being available to their employees and members. Building awareness is so important especially as kids' mental health continues to take center stage. Further, many families still aren't sure where to start when it comes to youth mental health. We know the need is there and families are in emergency mode, but it's clear that parents and families are still trying to figure out what youth mental health care is, what level of support is needed for their kids, and where they can find it. It's all so new for many caregivers. At Brightline, we are going to nurture and educate them to understand what their children are facing, the options available, and help navigate them to the right support. By focusing on improving mental health literacy, we hope to empower caregivers to make these important decisions for their families.
What comes next for care at Brightline? 
Myra: Brightline will continue to double down on its commitment to clinical quality, while also innovating on how care is delivered to meet the unique needs of even more families. I am particularly excited about focusing on early inventions and prevention work for kids and teens who are struggling to help them before these issues become more serious. 
What about when it comes to improving youth mental health literacy and awareness? 
Amy: So many more families can benefit from Brightline. We know the demand is there but many families just don't know where to start or where to look for family mental health support. They may also not know how to speak to their children about mental health. We are going to make sure we are reaching families at the right time, with the right resources, when they need us. 
Want to learn more about Myra and Amy? Find more info here and learn more about Brightline's leadership team.